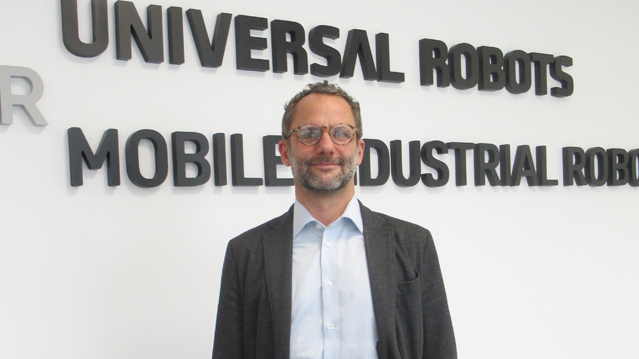 Jacob Pascual, Regional Sales Director of Universal Robots: "Barcelona has an above average level of talent and skilled workers"
24 Feb 2021
Universal Robots chose Barcelona for the creation of the first industrial automation hub outside of Denmark. The Danish company is part of the American group Teradyne, which plans to continue growing in the collaborative robotics segment in Barcelona.
Jacob Pascual, Regional Sales Director for Southern Europe, the Middle East, Africa and the UK, highlights in this interview the availability of qualified talent, the geographical connection and the high level of industrial automation of the Catalan SME as strengths to develop their business out of Barcelona.
Why did you choose Barcelona to locate the world's first collaborative robotics hub?
We were looking for a location from which we could manage southern Europe, the Middle East and Africa, well connected to serve the entire region. We chose Barcelona seven years ago and we saw that it worked very well for us. Our company grew more than one hundred percent every year and we have been gradually incorporating people.
Out of the Barcelona hub we perform regional and global functions. It's been clear that the location and team here have worked very well. Due to the location of the headquarters in Denmark, there are certain positions that are difficult to fill: people with international experience, who speak more languages ...
What availability of talent have you found in Catalonia?
We need technicians with experience in robotics and industrial automation and sales profiles, and we are very happy with the talent here. We have access to people with languages, highly trained by local universities and vocational schools.
Do you think Barcelona attracts international talent?
The combination of local talent and the possibility of attracting talent from abroad is an area where Barcelona stands out a lot compared to other places.
I would also highlight the bureaucratic ease: it is much more agile here to manage human resources. Barcelona, in many aspects, has a potential yet to be exploited and I believe that this can be a model for many companies, to be able to manage this area that we handle locally.
On a logistics level, I believe that there is no better location than Barcelona to have access to the southern European market.
What common traits do Denmark and Catalonia share?
They are similar in terms of the country size: Denmark has 5.5 million inhabitants. And Denmark is also an economy focused on small and medium-sized companies, like Catalonia. The business structure is similar in size, and economic indicators are not that far off either.
Why is Denmark a country to watch as regards collaborative robotics?
The founders of Universal Robots wanted to make robotics accessible to everyone, especially small and medium-sized businesses. They set out to develop a robot that was accessible and programmable by people without technical knowledge.
On the other hand, it turned out that the city where Universal Robots was founded was an area of great industrial development. They had a shipyard that manufactured ships for Maersk, the largest shipping company in Denmark. Along with public funding, Maersk invested in the creation of the Maersk Institute to develop robots to weld large holes in ships.
An ecosystem was created that revolutionized the market with robots that were easy to program and accessible to all types of companies. And above all to small and medium-sized companies, which are the basis of the Danish economy.
What types of companies do you have in Catalonia as clients?
Our focus is clearly on the SME. It is where we see the most growth in the future. By sectors, 25% is automotive, another 25% food, and the rest are all types of industrial companies.
It is a very varied profile, compared to traditional robotics companies for which the business is between 80 and 90% of the automotive sector.
What are the advantages of using your robots?
They are collaborative robots that can work in a factory shoulder to shoulder with a person, something that traditional robots cannot do (they have to be separated due to safety issues).
By incorporating force sensors, if the robot comes into contact with a person, it stops. This allows us to automate processes that could not be automated before, and this has opened up a new market.
The robot is very easy to program, it is very intuitive, like an app. You do not need any technical and specialized training as is the case with traditional robotics. For many of our customers, our robot is the first one they buy. Before that, they had never considered doing so because they felt it was too complex, only for large companies.
What are the strengths of Catalonia in the technology sector?
There is a high level of industrial automation, thanks to a strong automotive sector and to all the companies around this sector, both suppliers and integrators specialized in automated solutions. The business fabric of SMEs for us is very relevant. And there is an above average level of talent and skilled people.
What growth plans does the company have?
Teradyne has a forward-looking strategy to grow in industrial automation and they are constantly looking for new companies to acquire that are complementary to collaborative robotics. Therefore, more companies will come, and they will settle in the hub that we have created in Barcelona. We will grow.
What is the future of collaborative robotics?
It is a sector that grows 5 times faster than that of traditional robotics. In 5 to 6 years, collaborative robots will have the same global sales figures as traditional robots. The segment is booming because it brings automation and robotization closer to companies that couldn't previously access it because they perceived it as too complex. We are creating a new market.
How has Catalonia Trade & Investment helped you in your implementation here?
Universal Robots was considering other locations when it was decided to open the hub here. Other alternatives on the table were Paris, Milan and Munich. A benchmark was made of these four cities and Catalonia Trade & Investment helped in this study and also in the search for an office and location in Barcelona.
They also put us in contact with the local and institutional business community, and with technology centres such as Leitat and Eurecat, with which we collaborate. They have helped us increase our visibility here.
Related

news and success stories

.