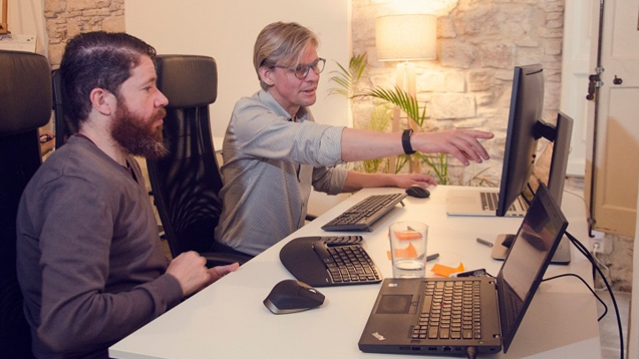 The Catalan-Danish startup Abzu closes an investment round of €6M
02 Jun 2021
This deep tech company, with offices in both Barcelona and Denmark, is developing an Artificial Intelligence platform out of Catalonia that currently works in the pharmaceutical field to accelerate the development of new drugs.
To set up in Catalonia, the company was supported by the Catalan Government via ACCIÓ-Catalonia Trade & Investment.
This investment round will allow the startup to strengthen the Barcelona-based company's technological product development team.
The Catalan-Danish startup Abzu, based in Barcelona and Copenhagen, has closed an investment round of €6M in the seed phase. This round will allow the emerging company to strengthen the technology product development team of the startup, located in Barcelona, with the aim of accelerating the development of its own Artificial Intelligence (AI) technology.
The company was founded in 2018 simultaneously in Catalonia and Denmark and currently has 18 employees, and expects to grow to a workforce of 30 people in 2021. To establish itself in Barcelona, the startup had the support of ACCIÓ-Catalonia Trade & Investment, the agency for business competitiveness belonging to the Ministry of Business and Employment.
Abzu has developed its own AI technology that, thanks to the application of an algorithm, acts as a simulator that identifies relationships between data sources. This means it can make accurate predictions and find mathematical solutions to complex problems, which allows for the interpretation of results and facilitates decision-making by scientists. The company is currently targeting this solution to the pharmaceutical sector to accelerate the processes of new drug development and clinical studies, although it aims to expand into other sectors in the future.
According to Abzu's Head of Business Development in Barcelona, Elizabeth Gil-Roldán, Abzu's managers decided to open offices simultaneously in Denmark and Catalonia "due to the difficulty of finding talent in Denmark, as we were mainly looking for programmers and software developers".
Gil-Roldán emphasizes that "this round of investment will boost activity in the Barcelona offices to strengthen the bulk of the technological product development team, which is located mainly in this city, and drive our commercial strategy and academic collaborations".
The round, which will be for both the Barcelona and Copenhagen offices, saw principally the participation of international investors from Nordic countries such as Seed Capital, Inventure and PreSeed Ventures, as well as various business angels. Abzu has recently joined the Catalan cluster CataloniaBio & HealthTech.
1,700 startups in Catalonia
According to Catalonia Trade & Investment's figures, there are currently 1,700 startups in Catalonia, 60% of those identified over the last five years. These emerging companies are responsible for 17,500 jobs in Catalonia, with an average workforce per company of 10 workers and a strong international component. Thus, 26% of startup workers in Catalonia are foreigners, 20% in the case of the founders. This international presence in Catalan startups has been increasing over recent years, a sign of Barcelona's attractiveness in attracting international talent.
Barcelona has, therefore, established itself as the European Union's fourth startup hub after Berlin, Paris and Amsterdam according to StartupBlink, which analyzes the quantity and quality of startups, as well as the business environment and critical mass. In fact, according to Startup Heatmap Europe, Barcelona continues to occupy the second position in the European Union for the fourth consecutive year as the preferred hub for creating a startup, after Berlin.
More news

and

success stories

.