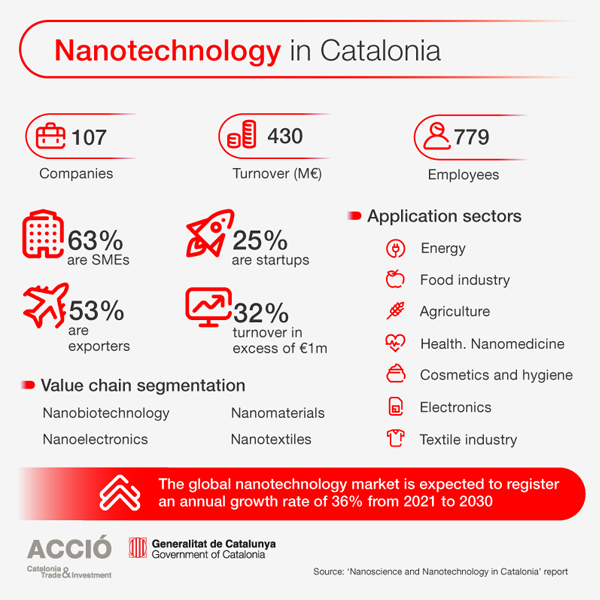 Report: Turnover in the Catalan nanotechnology sector goes above €430M
20 Oct 2021
According to the recently published study by Catalonia Trade & Investment Nanoscience and Nanotechnology in Catalonia, the turnover of the 107 nanotechnology and nanoscience companies in Catalonia already exceeds €430M and generates 779 jobs.
Of the 107 companies dedicated to nanotechnology or nanoscience in Catalonia, 62.6% are SMEs, 25.25% are startups, and the rest are large companies with areas dedicated to nanotechnology. In addition, 53.2% are exporting companies.
In terms of activity, 42.9% of Catalan nanotechnology companies are dedicated to the development of nanomaterials, 42% to nanobiology/nanomedicine and 23.4% work in nanoelectronics. There are also companies in the field of nanotextiles, instrumentation and metrology.
But what is nanotechnology exactly? Nanotechnology covers the areas of science and engineering where phenomena taking place at nanoscale dimensions are used in the design, characterization, production and application of materials, structures, devices, and systems.
This disruptive technology is attracting more and more attention, especially due to its applications in the health field, where it is extremely useful in areas as relevant as disease detection.
New applications arising out of nanotechnology are also boosting the creation of other technologies, thus generating significant business opportunities in its surrounding ecosystem.
The global growth of nanotechnology-related companies is estimated at 36% per year
The global market value of nanoscience and nanotechnology is 1.75 billion euros in 2020, according to Allied market Research, with an annual growth forecast of 36.4%. The projected total revenue is $3 billion (more than €28 billion) by 2030.
The world's leading nanotechnology companies are dedicated to the chemical and electronics sectors and are primarily from the USA. In the field of nanotechnology startups, the sectors showing the most growth are mainly medical imaging and biotechnology, as well as batteries and energy storage systems.
In Catalonia, two bodies doing their part to further this technology are NanoHub and GraphCAT. NanoHUB works to connect organizations dedicated to or related to nanotechnology in order to increase their capacity and competitiveness.
GraphCAT, for its part, aims to establish Catalonia as an international benchmark in graphene research, development, and innovation, giving local industries a strong competitive advantage in the global marketplace via the integration of proprietary graphene technologies into their products and services.
Catalan companies developing business opportunities arising from nanotechnology are, for example, Nanomol Technologies, which offers advanced solutions and technologies to healthcare firms aimed at obtaining high-added value products by particle design and nanoformulation.
Another local company working in the health sector is Braincoin, which develops graphene implant to treat epilepsy patients. And out of the health sector we can find companies such as Astrea Materials, which focuses on developing advanced materials for airborne pollutant abatement.
All in all, we can see that not only is the sector showing excellent results in Catalonia to date, but it also has excellent future prospects – the foundations of which are being established today in the region.
Download the report Nanoscience and Nanotechnology in Catalonia
More news

and

success stories

.