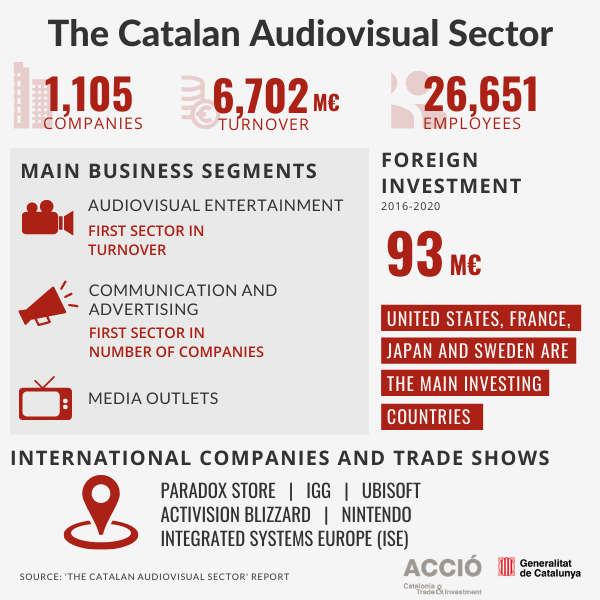 Report: A quick dive into Barcelona-Catalonia's audiovisual sector
26 May 2021
According to The Catalan Audiovisual Sector report, the audiovisual sector is a significant part of Catalonia's economy represented by currently over 1,100 companies, showing a total turnover of 6.7 billion euros and a workforce of around 26,000 people.
The sector itself can be divided into two large areas – audiovisual entertainment and corporate communication, advertising and events – with media outlets playing a smaller role. The audiovisual entertainment leads in terms of aggregate turnover, while the communication, advertising and events area leads as regards the number of companies.
Within audiovisual entertainment, itself generating a turnover of 3,869M€ and employing 14,102 workers, the bulk of the business is driven by production companies, followed by screening companies and video game developers.
In the case of communication, advertising and events, with 659 companies and a turnover of 2,414M€, this subsector is driven by media agencies that create almost 50% of the total subsector's turnover.
Foreign investment to Barcelona-Catalonia
In the 2016-2020 period, Catalonia attracted 93M€ in foreign audiovisual sector investment projects with the United States leading the pack, in terms of projects implemented. This country materialised 8 different investments with a total outlay of 21.9M€, followed by France with 4 projects implemented and an investment of 16.7M€.
However, in terms of investment amount, Japan takes first place with a total outlay of 25.1M€. This is due to the presence of companies such as Nintendo which have invested 18M€ in the audio and video equipment area. The gaming industry in general shows the most overall investment with a combined turnover of 61.4M€, coming from companies such as IGG, Ubisoft, Activision Blizzard and Paradox Store.
Professional talent and trade shows
As seen by the above breakdown the video game ecosystem in Catalonia is extremely active with a strong base of professional talent. The talent also extends to other fields where Catalonia excels, such as creative and technical experts throughout the entire industry, in some part due to the presence of major full-service media groups such as MediaPro.
This talent also generates a dynamic ecosystem of events and fairs that promote and give visibility to the industry, as well as attracting even more fairs to Catalonia's capital, such as the Integrated Systems Europe event (ISE), the world's most relevant audio-visual trade fair, previously held in Amsterdam and now to be held in Barcelona as of 2021.
Audiovisual entertainment in the world
Globally, the audiovisual entertainment industry has moved some 650B$ over last 6 years. Driving this significant growth is view on demand series and film fiction sector, video games, sports and other entertainment events are the most recent and future growth categories.
This dramatic increase in investment has been led by Netflix, who reinvented the category, with now a multitude of other players, from Disney to Amazon following the same model.
Download the full report on the The Catalan Audiovisual Sector here.
More news

and

success stories

.