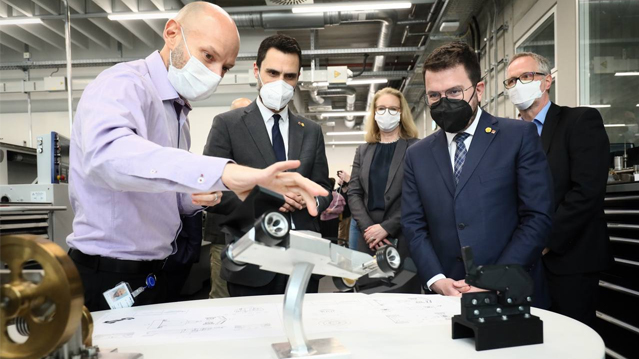 President Aragonès announces an investment of €10 million from German company Freudenberg to open an automotive components factory in Catalonia
17 Mar 2022
The President of the Government of Catalonia, Pere Aragonès, made the announcement accompanied by the Minister Roger Torrent during a visit to Freudenberg's HQ in Baden-Württemberg
This investment project has the support of ACCIÓ-Catalonia Trade & Investment, the agency for business competitiveness of the Department of Business and Labour
Freudenberg, which has 47,777 workers globally and operates 5 production plants in Catalonia, will soon begin the construction of the new factory in Parets del Vallès. The factory will be highly robotized and will have an area of ​​6,500 m²
German multinational Freudenberg will invest €10 million to build a new plant to produce automotive components in Parets del Vallès (Barcelona). This was announced by the President of the Government of Catalonia, Pere Aragonès, accompanied by the Minister for Business and Labour, Roger Torrent, after meeting with company executives at Freudenberg's headquarters in Baden-Württemberg (Germany).
The investment project of the German company, which has the support of ACCIÓ-Catalonia Trade & Investment -the agency for business competitiveness of the Department of Business and Labour- will allow the company to increase the current productivity by 15% of automotive components in the field of shock absorbers and steering wheels in the Parets del Vallès plant. The new facilities, which will replace an older plant, will have an area of ​​6,500m², will be highly robotized, and will operate without the use of fossil fuels.
President Aragonès said that the automotive sector "is undergoing a great transformation" and that this new Freudenberg plant, "modern and robotized", will "contribute to the green transformation that we are promoting in Catalonia and that means abandoning fossil fuels and opting for the generation of renewable energy".
As part of the visit, Aragonès and Torrent met with Chief Human Resources Officer and Freudenberg Board Member, Esther Loidl, and the company's CEO in Spain, Jaume Cané. The president thanked them for their "continued commitment to Catalonia".
The president also emphasized that "year after year, the economic ties between Catalonia and Germany have been growing and becoming stronger". These economic relations "are an integral and fundamental part of our strategy for economic internationalization as a country" and "that is why we are here, to continue promoting Catalonia as one of the most attractive territories in Europe to invest in". "Catalonia is a land of investments", he said.
Aragonès pointed out that "we have the highest volume of German investment in Catalonia in recent years". He added that Catalonia concentrates 51.6% of Germany's investment in Spain. He recalled that last year, "we already surpassed the levels of Catalan exports to Germany prior to the pandemic: more than 4,000 Catalan companies are exporting to this market, becoming the second largest trading partner in Catalonia."
With this new investment project, Freudenberg strengthens its commitment to carrying out industrial activity in Catalonia, where it has been present since 1967. The company currently has 650 workers in Parets del Vallès and operates 5 production plants, in which -in addition to manufacturing components for the automotive industry- it has divisions dedicated to the production of cleaning products -under the Vileda brand-, non-woven fabrics, lubricants, industrial filters, and mechanical closures. This activity generates an annual turnover of 300 million Euros.
The Freudenberg technology group, founded in 1849, has 47,777 workers worldwide and a presence in 58 countries. With sales of almost 9 billion Euros in 2020, the company invests 5% of its turnover in R&D.
More news

and

success stories

.