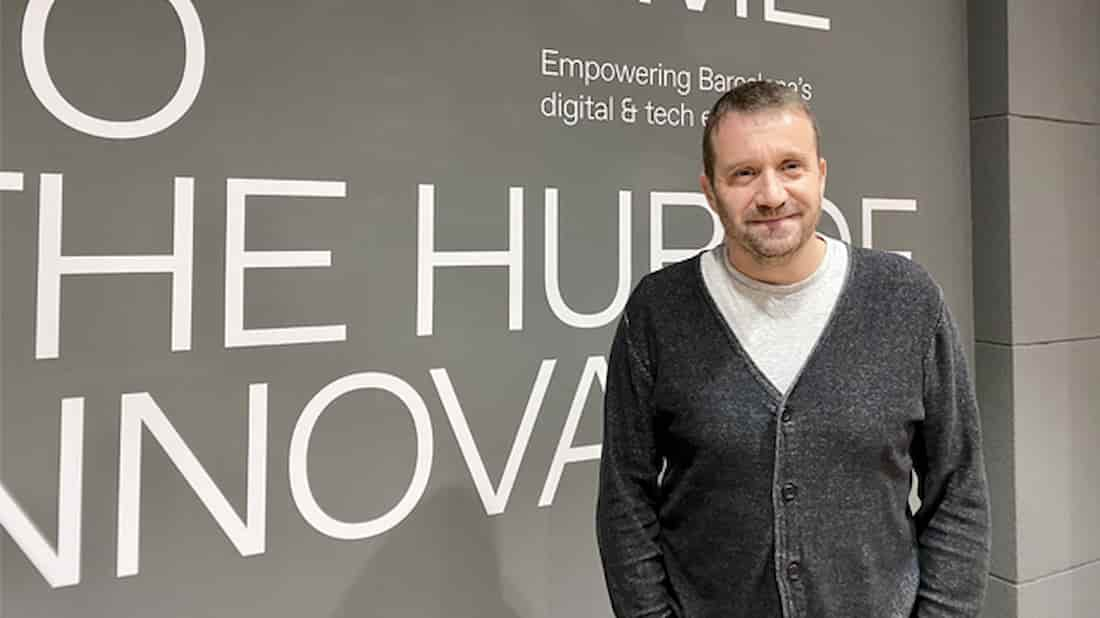 Miquel Martí, Tech Barcelona's CEO: "Barcelona's tech sector is running at a record-breaking speed"
26 Oct 2021
Tech Barcelona is a key institution promoting Barcelona-Catalonia's technology sector, recently reinforced by new announcements of digital hubs being set up by Festo, Microsoft and PepsiCo. A sector undergoing constant growth and representing already 35.7% of the total foreign investment projects in Catalonia in 2020.
Tech Barcelona created its flagship building in the Catalan capital five years ago, Pier 01, where a hundred companies, startups and other organizations coexist next to the Port of Barcelona, in what is a model of public – private collaboration that other cities are trying to replicate.
We spoke with Miquel Martí, CEO of Tech Barcelona, about the strengths of the technology sector, the future plans of Tech Barcelona and November's upcoming big event for digital entrepreneurs, Tech Spirit Barcelona.
This week we've learnt that Barcelona is the fifth European city in terms of tech investment attraction. What's your view on the state of the Catalan tech sector today?
Post Covid-19, it is evident that Barcelona's tech sector is running at a record-breaking speed. Compared to 2018 and 2019, which were very good years, Barcelona now has increasingly more heavyweight and mature projects so consequently it's quite normal that the city attracts international investment.
There's been recent news on the investments of Microsoft, Festo, Veriff and Nestlé in digital hubs here in Catalonia. What do you think attracts these global companies to set up here?
Barcelona, as a destination, is top of mind for large international companies wanting to create technological and digital hubs. Barcelona has the necessary talent and infrastructures as well as the global ecosystem which makes it attractive to create them.
Above all, what attracts companies the most is talent. There are large tech schools and business schools here and that's an important aspect. There's a lot of great local talent here.
On the other hand, Barcelona is a very interesting city and thus able to attract international talent, too. Quality of life is excellent here and you are surrounded by interesting projects. So, this combination of local talent and the ability to attract international talent are key factors when locating a hub in a specific spot.
"Barcelona, as a destination, is top of mind for large international companies wanting to create technological and digital hubs"
What is Tech Barcelona doing to help the technological ecosystem?
We think that Barcelona and Catalonia will be more competitive if we can be technology based. That mostly depends on talent, and talent we have.
Other factors to make this happen are good infrastructures and good entrepreneurship support entities, both public and private. Within the private sector, our job is to try to bring together stakeholders to align interests and support the sector and its entrepreneurs.
Tech Barcelona does three things: connect, generate knowledge, and develop strategic projects. First, as regards connection, we respond to the needs of entrepreneurs, companies, and other stakeholders. We try to concentrate the maximum intelligence of the ecosystem thus making it easier for entrepreneurs to find solutions.
Secondly, we generate knowledge to strengthen talent. Tech Barcelona complements universities and business schools by providing sectoral knowledge. Our activities programme is very focused on providing trends in technology, business models, experiences and so on.
"Barcelona and Catalonia will be more competitive if we can be technology based. That mostly depends on talent, and talent we have"
And the third branch of activity of Tech Barcelona are its strategic projects. Can you give us some examples?
We are developing projects to make Barcelona a relevant technological space on an international level. We have, for example, a network of ambassadors around the world and a network of international investors.
Another of the projects is the Urban Tech Campus, which seeks to articulate innovation through interconnected spaces. Pier 01 is the first space. Seeing the potential that the country has in specific sectors, we will develop piers in certain sectors: our priorities are sustainable mobility, sustainability, retail, health and fintech.
What stage are these piers at now?
The fintech pier is currently under construction in the Barcelona Stock Exchange and we hope it will be ready before the second quarter of 2022. As regards the health pier, it will be operational in the first quarter of 2022.
We're finalising our decision on where to situate the mobility pier because for us the place is extremely important. We want it to be very centric and visible within the city, to send a clear message on Barcelona's commitment to technology as a differentiating element. What's more, talent tends to be highly attracted to those centric, iconic spaces that have a certain history.
How many companies are there now in Pier01 and what types are there mainly?
On a normal day, without Covid-19 restrictions, there are 1,500 people in more than 100 organizations. The idea behind the Pier is to try to combine different players in one single space, and to act as significant representative sample of what is happening in the whole Barcelona ecosystem.
Right now, in the building we can find from the Mobile World Capital, to newly created companies, the most important venture builder in Europe (Antai; where Glovo and Wallapop came from), spin-offs that have come out of the Barcelona Supercomputing Center or the Universitat Politècnica de Catalunya, a UPC acceleration programme in collaboration with the European Institute of Innovation and Technology (EIT), ACCIO, company laboratories, spaces for events, and so on.
Furthermore, it is a cross-sectoral space: we mix the health sector, retail, ecommerce, etc. all under the same roof.
In a month's time you'll be holding the second year of Tech Spirit Barcelona, which in 2020 was set up in only two weeks due to the Mobile World Congress being cancelled. What will entrepreneurs find there?
Tech Spirit Barcelona is an outward-looking local event. We want our own ecosystem to become aware of the power we have here, both locally and internationally. The leading representatives at a technology and sector level will be on stage for two days.
In Barcelona we have many far-reaching projects, and we want them all to be visualized in a single space and in two days. We want to showcase, for example, Wallbox, Adevinta (which piloted the purchase of eBay), Netflix (we will have the person who, out of San Francisco, directed the entire transformation phase incorporating Artificial Intelligence), as well as the ACCIÓ Startup Forum that will be connecting investors and entrepreneurs.
What are Tech Barcelona's future plans?
Tech Barcelona is tool designed to develop the Catalan technology hub. Our priority is to achieve genuine transfer: the digital sector has grown a lot, it is very solid, but we lack more technology-based companies. We try to be as close as possible to the centres where knowledge is being generated so that research can be transformed into products and services for society.
Our other priority is to continue growing and stay committed to making Barcelona an urban campus of technology and position itself internationally. Our collaboration with Catalonia Trade & Investment is highly important. We want to explain what we are doing abroad and to be able to attract the talent and companies that are showing a growing interest in what is happening in Barcelona.
Related

news and success stories

.