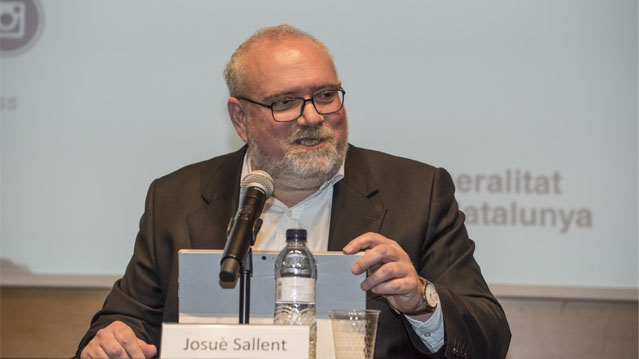 Josuè Sallent, ICT Health Social Foundation: "Catalonia is home to Europe's largest medical imaging bank"
27 May 2020
Josuè Sallent leads the ICT Health Social Foundation whose mission is the digitalisation of Catalonia's Health System. The Director of the Foundation explains that the early adoption of new technologies such as Artificial Intelligence has turned Catalonia into a pioneering European health system.
Having here the largest amount of medical images in Europe (a centralized repository of all radiographs, scanners or cardiograms, among others, of Catalan patients) acts as a catalyst for many research and innovation projects that attract the interest of foreign companies and countries from all over world.
How has digital transformation and the use of new technologies galvanized the Catalan health sector?
The health sector has always been one of the most innovative sectors around. And Catalonia has been committed to digitalisation for many years, starting with shared medical records and electronic prescriptions. We have been leaders in this whole area on a European level.
All the information we have in Catalonia is centralized and we lead the field in medical imaging. Furthermore, we have the largest medical imaging bank in Europe.
What does this mean for the health system?
An X-ray, CT scan, scanner or ultrasound scan of any patient can be accessed from any health centre. This allows you act very disruptively and leads to changes in the care model.
Professionals can work from any centre, and now we've seen how our professionals during the Covid-19 pandemic have been able to telework from home. Catalonia's size allows us to do that.
What are the differences with other countries?
Bear in mind that there are countries that still don't even have clinical histories. This depends on the health system in each country. Our model, made up of an insurance company and various public providers means it is different from France for example, where primary care is private or in Italy where they are self-employed workers.
In Germany, for example, they have various public mutual insurance companies, and everybody pays for the one they choose. This doesn't make them better or worse systems; just different. But the implications are different when it comes to digitalisation.
How much has Catalonia's business community contributed to this leadership position?
Digitalisation has been possible not only because of public leadership, but also because we have had companies that have been at our side as we went down this path.
As suppliers, we work with large multinationals present in Catalonia, such as IMB, T-Systems and Indra, who all have their health-related innovation centres here.
What are the opportunities of foreign companies in the Catalan health sector?
Catalonia is a good place for innovation. It is a relatively small territory of 7.5 million people, but the fact that it has one of Europe's best health systems and that it is highly innovative makes it the perfect springboard to the rest of Europe. Large pharmaceutical companies are investing in digitization processes in Catalonia through their digital transformation departments
We have exemplary public hospitals, such as the Hospital Clínic or the Vall d'Hebron, which allow us to do all this. Many of the projects we are doing in Catalonia are leading the field on a European level and other public health systems are studying what we do.
What projects are you running at present?
Our top project right now is mConnecta, a platform where all the mobility elements can be connected in one single point (mobile apps, wearables, and medical devices). Any manufacturer can connect to this, it is a sort of standardized middleware.
It stands out as a global innovation allowing us to take giant steps in the application of mobile tech. We're in conversations with other countries regarding sharing this experience.
In terms of the general public, it means that all medical data will be collected on the platform and health workers will be able to access it. For example, it will allow for a post-surgery tracking via apps, or tracking mental health via mobile devices. We'll also use it to track cases of Covid-19 that have been discharged.
What steps have been taken coinciding with the start of the Covid-19 pandemic?
We have completed the national telemedicine services strategy, and this will allow us to move quickly in this field because we need to digitize all processes as much as possible.
The first example we have is the app STOP COVID-19 CAT, which has been downloaded 1,250,000 times: an incredibly high figure. We are in conversations with other states that have asked us for it. This is proof that apps are actually practical, people really use them.
The use of e-consultation has skyrocketed: contacting your doctor via secure email. In this crisis we have had days where e-consultation has outpaced face-to-face visits, and that had never happened before. This has changed the way we understand the relationship between doctor and patient.
The use of video conferencing has also skyrocketed: we've implemented it in 15 days, and it's here to stay. Technologically, it was already being worked on, but the present state of emergency has made it commonplace.
What are the opportunities for Artificial Intelligence and 5G in the health sector?
We are putting a lot of work into Artificial Intelligence, because it allows you to eliminate routine, low-value tasks performed by professionals with ethical and legal guarantees. We are undertaking very interesting pilot tests and there are already large multinationals showing interest from outside Catalonia.
Our competitive advantage is that we have the largest medical imaging system in Europe, with a wealth of well-informed data and images. Many companies and research centres are showing an interest to do research and innovation projects with us that can then be transferred to the market.
As for 5G, we presented the connected ambulance project and have given remote support to complex surgeries. 5G has a number of advantages for the system and will greatly improve domestic telecare. We are now in the testing phase and we see that there are great opportunities.
More news

and

success stories

.