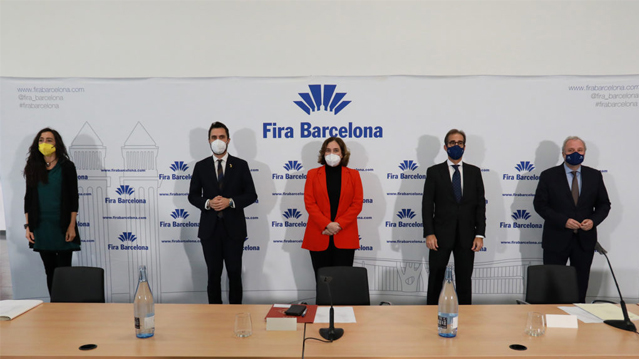 Fira de Barcelona expects a turnover of more than €170 million in 2022 with the organization of major international events
24 Dec 2021
Fira de Barcelona foresees a great activity in 2022 in its venues with the celebration of important international events such as Alimentaria, MWC Barcelona, or ISE, among others.
Taking into account this important activity planning, but with the prudence required by the current health situation, Fira de Barcelona has set itself the objective of reaching in 2022 a turnover of more than 170 million euros.
This plan was covered this week at the meeting of Fira's General Council, chaired by Ada Colau, the Mayoress of Barcelona, and attended by its Vice-Presidents, Roger Torrent, Minister of Business and Labour of the Government of Catalonia, and Mònica Roca, President of the Barcelona Chamber of Commerce.
Pau Relat, Chairman of the institution's Board of Directors, and Constantí Serrallonga, General Manager, have also presented the economic results for 2021 with an estimated income of 60 million euros, thanks to the activity concentrated in the second part of the year, due to the impossibility of holding events during the first half of the year because of covid.
Serralloga stressed that despite the adverse context, "Fira has opted to maintain as much activity as possible at the fairgrounds in order to contribute to the economic recovery, support other organisers and be prepared to face 2022 in the best conditions, both from an operational and logistical point of view and in terms of personnel".
At the expense of the evolution of the pandemic and the progressive normalisation of the trade fair calendar, Fira de Barcelona is working with its sights set on 2022, a year which is expected to hold some 80 different national and international events.
Source: Fira de Barcelona
More news

and

success stories

.