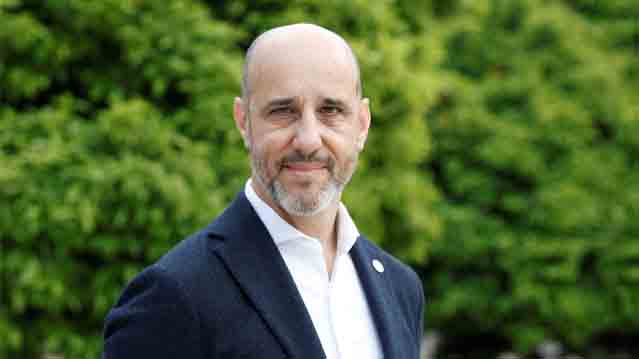 Cristian Pascual, Barcelona Health Hub: "Barcelona has all the ingredients to become one of the world's digital health capitals"
23 Feb 2022
The investments in digital health companies in Catalonia doubled in 2021. It is a dynamic sector that gathers under the Barcelona Health Hub cluster. Its president, Cristian Pascual, highlights in this interview why Barcelona is a leading location in digital health.
The Barcelona Health Hub, which gathers today more than 300 companies, has its headquarters in the impressive modernist building of Hospital de Sant Pau, in Barcelona's city center. The cluster functions as a meeting point for startups, investors, corporates, and medical institutions.
What's the digital health sector like in Catalonia?
It is a vibrant sector: in Catalonia, we have an entrepreneurial ecosystem recognized throughout Europe and the world. We have corporate headquarters, pharmaceuticals, and a strong biotech ecosystem. What's more, we've added Covid and the sector has really taken off.
Barcelona has all the ingredients to be one of the world's digital health capitals. And this is what we want to make happen with the Barcelona Health Hub: positioning Barcelona around the world as a place to kick off digital health businesses.
What changes has digital health undergone as a result of the pandemic?
Evolution in healthcare is tough because it is highly centered on solving the problems of patients that doctors see on a daily basis. Telemedicine and Artificial Intelligence were two elephants in the room who galloped out due to Covid, driven out by necessity. We now have the perfect storm to move forward.
Digital health is the only short-term solution we have to make healthcare more scalable, sustainable, and inclusive. We will go through an evolution towards a Netflix healthcare experience. The digital channel will be a fundamental part of usage when it is well integrated within the entire healthcare system.
What are the most outstanding sector companies here in Catalonia?
Today we already have digital health scale-ups in Barcelona, and 4 or 5 years ago we didn't have any. For example, Koa Health has raised $30 million in a field such as mental health which is booming. Top Doctors, meanwhile, raised $12 million; Mediktor got $11 million, Biomed $5 million...
Have the funding rounds come from international or national funds?
We've had a good network of local business angels for a long time. And local funds for digital health have evolved a lot; now we have some important ones based here. This year as a whole they will raise a lot of money, I think around 500 million. Aside from that, outside funds are also investing here, and that's a good combination.
What is the purpose of the Barcelona Health Hub cluster?
The Hub was born during a Mobile World Congress. From my company, Mediktor, we had to change offices, and we decided to move in together with other startups we knew. And this is how 6 startups landed up at the Hospital de Sant Pau in Barcelona in September 2018.
Now there are 310 companies that are part of the Hub: the growth has been exponential, it's crazy.
The goal of the hub is to help startups overcome the barriers they have to reach the market, grow and transform into scale-ups and, potentially, unicorns. The whole ecosystem must work to produce the first Catalan digital health unicorn.
We have a bricks-and-mortar headquarters at the Hospital de Sant Pau that helps us to be very active in networking, with activities weekly, and bring startups closer to corporations, investors, and all medical institutions.
How do you connect large companies and investors with startups?
There are two companies with a significant presence in the hub. One is DKV, which has the Innovation Lab, a showroom integrating technologies with medical and hospital environments. And Almirall has the Digital Garden.
Many other large businesses use the hub for meetings, events, hackathons... We want the Hub to listen to the corporate world, know what it wants from the Hub and bring it closer to startups.
Where are the startups in the Hub from?
Most are local startups but they also come from all over the world. We have always had a very global view of how this Hub should be promoted. Barcelona has the potential to become a bridge to all of Latin America.
Many Spanish startups jump to Latin America out of cultural and linguistic proximity: this is something we must use to our advantage. For a startup from Brazil or Mexico, coming to Barcelona is a bridge to enter Europe.
What are foreign digital health companies looking for in Barcelona?
Things like clinical validation. It is one of the key aspects of healthcare. In Barcelona, we are already a benchmark in clinical trials with medical technology, but there are some specificities in digital health that we must take advantage of.
We are working to make Barcelona a key location for performing validations with defined time and cost parameters, and we'll have a competitive advantage over other hubs.
Why should a digital health company come to Catalonia?
Our secret recipe is our ability to attract the young talent we have. It's spectacular. There isn't a young person in Europe who says no to coming and living in Barcelona. And this is a very powerful weapon to attract talent to Barcelona.
We have a growing, powerful and well-connected ecosystem with all the resources. It is a fantastic and cost-competitive place compared to other leading hubs such as the United States.
Investment in digital health companies in Catalonia has doubled in 2021, according to the latest Biocat report. What do you think is behind that? Are you seeing more international investment?
There is a strong commitment globally to digital health. The data from Startup Health, which is a global scanner of worldwide investment in digital health, has also doubled. They went from $22 trillion to $44 trillion.
It is an impressive increase that affirms the commitment of funds to a booming sector. We are seeing the awakening of the digital age. It will be a relevant sector in this country's future.
What are Barcelona Health Hub's growth objectives?
The Hub now uses three pavilions of the Hospital de Sant Pau, which is an incomparable setting and a very attractive place to visit from the outside. We had at the outset no doubts that to set up a digital health hub, we had to be close to clinical practice. There are now over 300 people working here. We want to hit the figure of 1,000 members and occupy 5 pavilions.
Related

news

and success stories

.