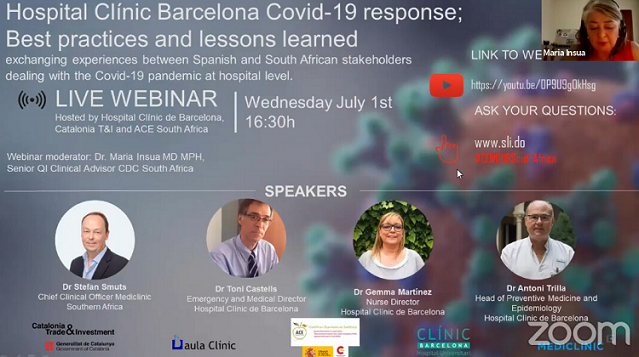 Catalonia Trade & Investment and Barcelona's Hospital Clínic organize a webinar to share COVID-19 management experience with South African doctors and health professionals
02 Jul 2020
Catalonia Trade and Investment's Office in Johannesburg (the Catalan Government's agency for business competitiveness) and the Hospital Clínic of Barcelona have organized a webinar aimed at professionals in the healthcare sector in South Africa. The session, which took place this Wednesday, was attended by at least hundred doctors, health professionals and hospital directors.
The aim of the webinar that was streamed live, was to share experiences, knowledge and best practices in the management of the pandemic in Catalonia. The experts of the Hospital Clínic have explained their experience and learnings during the COVID-19 crisis.
They explained the learning curve and how health professionals had to adapt their protocols, the need to adapt spaces to double the capacity of the ICU, the opening of new hospital wards for these patients or the deployment of a medicalized hotel, the Hotel Salut in the Hotel Catalonia Plaza. Altogether, since the first case of SARS-CoV-2 infection in Catalonia was diagnosed at Hospital Clínic, more than 2,300 patients with the disease have been treated.
The webinar, also organized in collaboration with Mediclinic group and the Association of Spanish researchers in South Africa (ACE), was attended by the Medical Director of the Hospital Clínic, Dr. Antoni Castells; the Nurse Director, Gemma Martínez; the head of the Preventive Medicine and Epidemiology Service, Dr. Antoni Trilla, and the Medical Director of Mediclinic Southern Africa, Dr. Stefan Smuts, while the event was moderated by Dra. Maria Insua, Clinical Advisor of the Center for Disease Control and Prevention (CDC) South Africa.
The event is promoted by Catalonia Trade & Investment, the Catalan Government's agency for business competitiveness, which opened its Office in Johannesburg in 1995 with the aim of promoting trade relations and innovation between both territories. The Johannesburg office also offers support to South African companies based on their demands and help them identify potential Catalan partners to develop projects with. Currently, Catalonia's exports to South Africa in 2019 reached 271 million euros, while more than 1,700 Catalan companies sell their products and services there.
In the framework of the pandemic, Catalonia Trade & Investment is also promoting the Export COVID-19 Solutions international program to facilitate the export of products developed by Catalan companies that are related to COVID-19, in addition to creating a digital catalog with these products (protection equipment, disinfection systems, medical equipment...). The aim is for public administrations, hospitals or importers to get to know solutions created in Catalonia within the framework of the pandemic and facilitate their internationalization.
More news

and

success stories

.