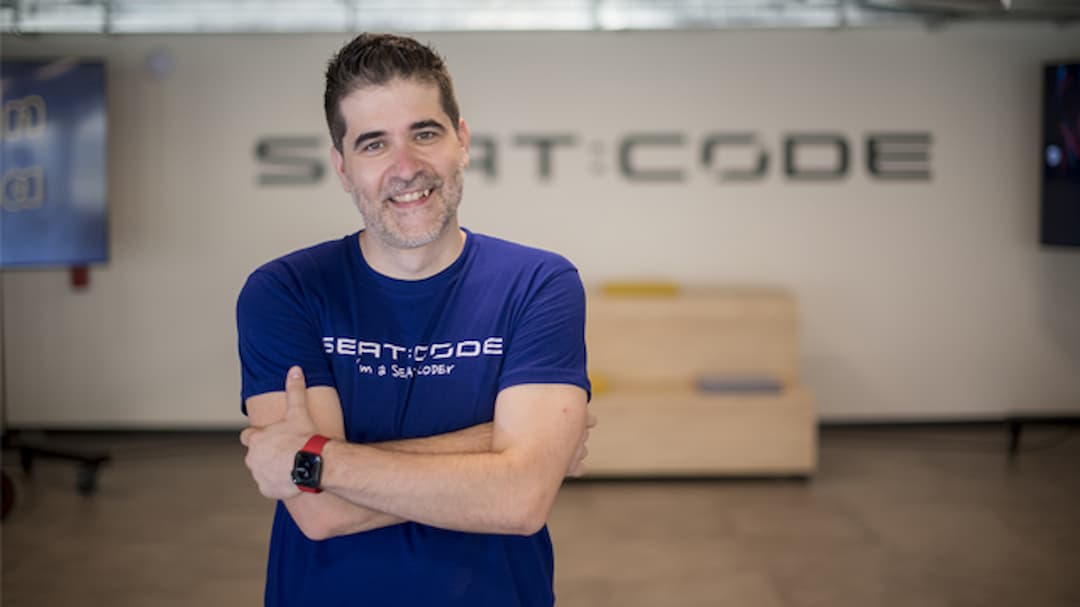 Carlos Buenosvinos, Head of SEAT:CODE: "Barcelona holds all the cards to be a major player in the mobility of the future"
27 Jan 2021
In 2019, Barcelona-based car manufacturer SEAT -part of the Volkswagen Group- opened the SEAT:CODE development centre in the city center, giving it the mission of finding new business models related to mobility and the transformation of the automotive sector.
Carlos Buenosvinos, Head of SEAT:CODE, explains the disruptive projects carried out by it - from motosharing platforms, to the improvement of logistics production and a control tool for processing respirators for COVID-19 patients.
Buenosvinos also highlights the strengths of the Catalan car industry and how the various agents in the territory can contribute to defining the mobility of the future.
What's the mission of the SEAT:CODE development centre?
SEAT:CODE is part of the Volkswagen Group's network of software development centres. Mobility is our speciality. We have three very clear lines of work: logistics production, mobility-micromobility, and the customer journey.
With SEAT:CODE, SEAT wants to internalize development capacity, keeping the know-how inhouse. This means that the company builds, reskills and becomes a more technological company. It also becomes more attentive to opportunities to invent new business models that may impact the future of the company.
The automotive industry is undergoing transformation, and the area of new business models means you can diversify your customer, your product, your service, etc. Selling cars is still at the forefront of the business, but if you want to think of alternatives or complementary business models, you have to start somewhere. And this is the role of SEAT:CODE.
Why was Barcelona chosen as a location for the centre?
It would be unconceivable for SEAT to consider any other city: it is 100% committed to Barcelona. Proof of that is see the new CASA SEAT building on Diagonal with Passeig de Gràcia (in the centre of Barcelona), or the location of the SEAT:CODE building on Rambla de les Flors.
We are here not only because we like the city centre area and the fact that it's extremely well connected, but because we want to be part of the transformation of the city model. Barcelona is also one of the world's top 5 cities in terms of investment in knowledge and a hub for technological companies, and this is a determining factor.
Do you think that Catalonia can play an important role in defining and implementing future mobility? What are its strengths?
We have a large number of companies, industry suppliers, technology partners and agents such as SEAT. Barcelona is a trendsetting city, with the challenges faced by mobility just like any other large city in the world, and where the industrial sector is significantly active.
From a technological perspective it is a city where there are major companies working on issues related to mobility. And not just mobility of people, but also logistics, delivery, food delivery, last mile, etc. Barcelona holds all the cards to be an important player in the mobility of the future.
Within this concept of mobility of the future, we are not only working in SEAT MÓ and motosharing, but we have a significant interest in mobility for public administration. For example, disconnected or remote villages: we are working with agents from towns and cities in Catalonia to be able to offer improved mobility solutions.
"Barcelona is one of the world's top 5 cities in terms of investment in knowledge and a hub for technological companies"
The centre was launched in 2019. What, in your view, are the highlights regarding its activity so far?
Our flagship is the SEAT Mó mobility platform, which combines both the private motorcycle aspect with motosharing in Barcelona. The whole technological part has been developed by us, as well as the mobile application.
This is the most relevant project, because it is in line with the idea of creating new business models: we are already marketing it to third parties. To date, from the start of the project, 4 or 5 leads have materialised, some of them from Catalan companies interested in mobility and sustainability. We will soon be able to announce these partnerships.
As regards the commercial aspect, we created the whole web system to prebook the Cupra Ateca Special Edition, as well as the flexible leasing subscription model. Since 2019, we have been taking care of most of the newest commercial processes of SEAT, CUPRA and SEAT MÓ.
In terms of logistics production, we are working on issues of internal efficiency. SEAT parts and components suppliers are beginning to use tools developed at SEAT:CODE; for example, tracking trucks, shipping parts, or rerouting trucks if there are traffic jams.
And a small, but emotionally very rewarding project concerns respirators for COVID-19 patients. A large number of companies collaborated in the development of the SEAT respirator. Many people sent masks, parts, etc., and asked us if we could create a small logistic control tool for the process of manufacturing and delivering respirators.
"From a technological perspective Barcelona is a city where there are major companies working on issues related to mobility. And not just mobility of people, but also logistics, delivery, food delivery, last mile, etc."
How big is your team? What has growth been like?
We started as a SEAT Metropolis:Lab with about 20-25 people. In 2019 we started SEAT:CODE hiring intensively, and referrals here have worked very well. There are now about 150 of us; last year we signed on 90.
This year we will continue to expand. The business is going well, we are growing and doing things not only for SEAT MÓ and CUPRA, but also for the Volkswagen Group. If we continue to attract projects, from the Volkswagen Group above all, we will continue to grow.
What professional profiles does the centre look for?
We are looking for data engineers, data science, front end people, back end, and so on. The technologies we work with are mainly Java. We have product owners, design people, UX, UY, etc. We are a technical company, basically.
And can you find this talent in Barcelona/Catalonia?
Yes, we can. The talent is out there, and if it isn't, it can be trained. The point is to have an attractive project, with a positive impact, and flexible conditions that make sense to people. We have recruited 90 people in one year. I don't know of any Barcelona startup that has signed so many people in such a short time. The people who have come have referred friends, acquaintances, colleagues to us, and we have also incorporated people from the foreign market.
SEAT made a plan to move 5 people from the production line to SEAT:CODE to do software development; something amazing! This is one of the projects that motivates me a lot personally. It showcases the values ​​we represent, such as reskilling, productivity, updating. Talent can be formed. With patience, it can be done.
We don't just work with one type of technology, and we know that we need good professional people with the attitude and the desire to learn. What you don't know you will learn here. And that speeds up the issue of hiring. If you have a good project and diversification strategies, you can get that talent.
What kind of projects are you currently working on?
The logistics production platform. Part of the work of SEAT:CODE for SEAT has to do with supply chain optimization, making it faster and more efficient. We want to be the brand that delivers cars as quickly and sustainably as possible. This has tremendous complexity.
And the supply chain is a challenge that not only car manufacturers have, but many other manufacturers too. We thought that if we can solve it for SEAT, then we can leverage it as a model and make tools available to the Spanish industrial sector, helping them to be more competitive.
Therefore, this year we would like to launch accessible and useful services for companies in the industrial sector that can contribute to improving competitiveness: better prices, efficiencies, supplier controls, better quality, fewer manufacturing incidents, and so on. We are already working with some clients who are testing what we have to see if it can help them. This, for me, would be this year's dream.
What service do you provide to other Volkswagen Group brands from here?
We are part of the Volkswagen ecosystem and have been working on important brand projects dedicated to internal improvements and systems since last year.
With our temperament and our philosophy – with a startup mindset, focused on high quality, investing just the right amount and always looking for profitability – we are able to deliver projects and offer the same quality as a German supplier. The Volkswagen Group is clearly pleased with this, and that is a source of pride for us and for SEAT.
Related

news and success stories

.